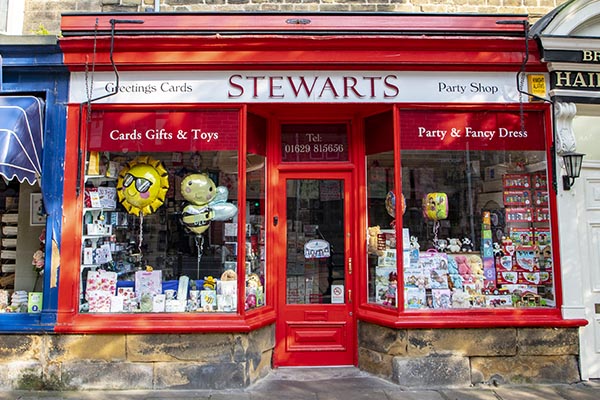 Stewarts Of Bakewell have been adding magic to celebrations for more than 20 years and are a byword for fun, quality and variety when it comes to partying and festivities.
Whether you're celebrating a birthday, wedding or family get together Stewarts of Bakewell has everything you need to set the right tone. You'll find cards, gifts and gift wrap along with novelty items, balloons and banners. In short, everything you need to make your party a success.
Stewarts are experts in providing custom-made balloon arrangements for special occasions. Whether that's a single table centrepiece for a birthday party or your dream wedding you're assured of something spectacular.
Whether you live in the historic town of Bakewell or are visiting to take in the sights around the Peak District Stewarts of Bakewell has something for you. Stewarts can provide the perfect souvenirs and keepsakes for you. You'll also find postcards depicting the beauty of Bakewell and the surrounding Peak District National Park to send to families and loved ones.
Stewarts of Bakewell offer products from local producers and top brands such as:
Santoro
You to Me
Big Jig
Carte Blanche
Peaked Interest
From Christmas to Christening, Birthdays to Bar Mitzvah Stewarts of Bakewell has it all.